Where It All Began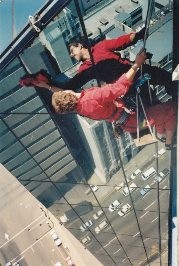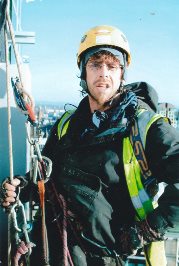 The story of how a 'Dharma Bum Mountaineer' found the love of working with timber and became 'The Village Carpenter' is a tale of an epic journey… I guess things began in the most unexpected way; an interest in rock climbing, mountaineering and wilderness camping in my mid 20's led to life changing travels to South Africa in 1995. There, I found myself dangling by rope on the outside of a 36 storey glass sky scraper in down town Jo'burg…where I spent a year working as an industrial abseiler. A career as a dangling 'bloke on a rope' & swinging around multi tool started to blossom in a most unusual way.
Travel And Work
So I found myself exposed to all sorts of exciting jobs & projects; with work travel interspersed with exotic trips to remote mountain environments… The dirt bag Dharma Bum couldn't be suppressed and so followed years of rope access contracts, sleeping in vans, hard manual work with life changing positive connections with inspiring people, places & moments.
Santa Cruz, California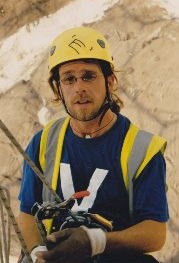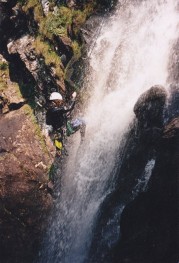 I spent much of 1995-2007 working all over the planet – dangling around – but it wasn't until a climbing trip took me out to California that my love of wood started to ignite. Friends had invited me to spend the winter with them in the fabulous little hippy town of Santa Cruz just south of San Francisco, seeing the Giant Red Woods and the beautiful old Victorian timber houses in old down town Santa Cruz was something special. My friend, Mike, ran a carpentry business so I offered to help him out on the odd job when he was busy….in fact the very first first job we did together was re-shingling a roof with cedar shingles… to this day whenever I smell cedar it takes me back to that roof with the sun on my shoulders and the sounds and sights of the board walk and the worlds oldest wooden roller coaster in the distance. I subsequently spent 10 winters out in Northern California… working wood!
The Eden Project
So it began in California, but my other work always brought my back to the UK in the spring. And so, another life changing and enhancing experience was to come my way. I was offered a contract to help in the building of the Eden Project – as part of the Sky Monkey Team… It was here where the light was switched on … I knew that I had to stop drilling steel and concrete & start using my hands in a more creative way. To this day the Eden Project stands out clearly as the most important job I've ever worked on, leaving something with me that continues to inspire…I'm very proud of the small part that I played in it's creation.
Glastonbury
I am now a regular at Glastonbury, taking my Green Woodworking Workshop to the iconic festival whenever I can.
And Now Back Home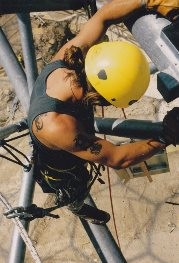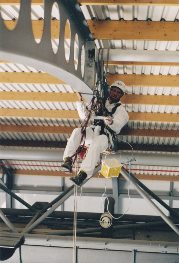 My base had always been in North West Leicestershire between travel and work contracts; I found myself continually drawn back to the countryside & woodlands. House ownership had finally kept me in one spot for a period of time and one autumn week I found myself flicking through Permaculture Magazine whilst waiting on top of a roof down by the river Thames – I was waiting for the wind to drop, so I could go over the side of the building on my trusty rope to carry out a concrete inspection. The article cried out to me 'A week in the wood's, learn how to make a piece of rustic green wood furniture'.
And So The Village Carpenter Was Born
So on that roof, the first little acorn was planted. I enrolled on the course and 8 years later Rustic Carpentry is my life, with the timber, tools & traditional techniques. I really have serious 'grain on the brain'. My passion for working with wood and creating bespoke projects is, I hope, shown here on these pages.
Ian Edmund Varley